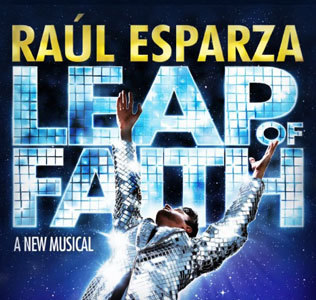 [Please note that this was a preview performance so things will be changed and fixed before opening night.]
Last night, April 6th, I saw a preview performance of Alan Menken (Newsies, Sister Act)'s new musical LEAP OF FAITH, based on the movie of the same name. The show features lyrics by Glenn Slater and stars Raul Esparza (Arcadia, Company), Jessica Phillips (Next to Normal), Kendra Kassebaum (Wicked), and Leslie Odom Jr. (Smash).
Overall, the show was a lot better than expected. I had read very mixed to negative things about the first few previews so was not expecting much. I was expecting a forgettable score and a Raul Esparza star vehicle. I have to say though, this was not the case.
While Raul Esparza definitely shone with the show and score that seemed to be built for his voice and style, the other actors definitely held their own. All of the principals did a great job. I was extremely impressed with Kendra Kassebaum, who played Esparza's sister, and Talon Ackerman, who played Phillips's son who is physically disabled (which she clearly describes).
Kassebaum had attitude while still being lovable and her voice just shone on the few songs she had. Her duet with Phillips, "People Like Us," is probably my favorite song from the show. Ackerman, who was the sole person who believed in Esparza's character Jonas Nightingale, made you feel his pain and portrayed this over-eager 13 year old perfectly. His voice was good (you could tell he was having some problems with his voice changing) and he was definitely the person who stood out that I didn't expect.
Technically, the set was alright. I loved the tent, which is the focal piece of the set and is a character in and of itself. That being said, in the beginning of the second act, the show stopped for about 5 minutes because the mechanism that turned the tent platform had broken down. I didn't mind though, because it actually came at the best moment for the break. I also enjoyed how the set grew from the stage, with platforms up to the audience in the mezzanine.
The rest of the set was minimalistic and looked like it was done by a low budget college show. I think they really dropped the ball on the set besides the tent. Hopefully they can change it a bit before opening. The lighting was good, there were a few moments that were a little strange. Sometimes it was difficult to hear soloists over the choir (which rocked hard).
Overall, I think this show is good, but I don't know if it is good enough to survive. I think the Tony's will be important for the show (Raul could easily get at least a nomination). I give it through the summer. I think come fall, it won't be around. I hope it proves me wrong though...